Launched in June of '09, the Machining & Technical Services group has expanded to two shifts to support customer demands. Employing highly skilled Machinists and Engineering Technicians, equipping them with state of the art tooling and software. This addition to the Dynacoil team offers customers one stop for all their fabrication needs. Providing customers with high quality, cost effective support with quick project turn around to meet today's fast paced manufacturing environment.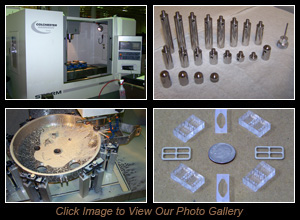 Our CNC machining capabilities allow us to hold close tolerances and complex geometries in a variety of metal and plastic materials. Directly inputting CAD files into the current version of MasterCam software, our machinists provide customers with superior craftsmanship coupled with competitive pricing. With over 100 combined years of experience in the machining industry, solutions to customer needs are always at hand.
Much more than engineers, our Technical staff offers one point of contact for customer needs. Our Technicians are supported with state of the art lap top systems loaded with the current version of Solidworks 3D design software. This enables them to design on site, for projects that cannot be removed from existing facilities. From reverse engineering obsolete components, designing custom tooling, intricate pharmaceutical laboratory instruments, or automated equipment, Dynacoil's Tech's will meet your needs.