Dynacoil is a custom metal fabricator specializing in stainless steel. We can build from your print or engineer the project to your specifications. We utilize the latest technology in laser cutting and metal-forming equipment. Our welding department is staffed with certified welders and our team of polishers can provide any finish, from a #4 brushed finish to a brilliant #8 mirror finish suitable for pharmaceutical and semiconductor applications. Our capabilities range from simple panels and weldments to assemblies and projects that require a high degree of fit and finish. We have a full staff of sheet metal and piping journeymen available 24/7 to provide welding, polishing, installation and support at our facility or yours. Our project managers provide responsive customer service and will keep your project on time and within budget. We welcome projects with short lead times and very high quality expectations.
Dynacoil supplies a wide range of custom process components, equipment and support to customers worldwide. We provide:
Hoppers
Conveyors
Lifts
Transfer panels
Manifolds
HEPA filtration carts
Hoods
Pass-thrus
If you're involved in pharmaceutical manufacturing or packaging, we can help. Projects requiring #8 mirror finish polishing, passivation or electro polishing are our specialty. We provide certified orbital welding of process pipe and clean room orbital welding for semiconductor applications.
Stainless steel cabinets are available in an endless variety of sizes and styles:
Upper and lower casework for laboratories and pharmaceutical manufacturing
Electrical enclosures
Storage cabinets
Gowning cabinets
Fire extinguisher cabinets
NEMA 4X style enclosures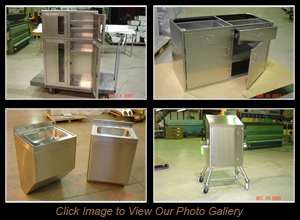 All cabinets and casework are available in T304 and T316 stainless steel with a variety of options:
Slope top construction
Windows
Double wall construction
Hardware options
Insulated
Ask about quick delivery on our standard line of stainless steel casework, countertops, sinks and NEMA 4X style enclosures. All can be customized to your specifications!
Frames are custom made to the customers' specifications. Common applications are CIP systems, packaging equipment, and carts for mobile process equipment. Frames can be made from round or square tubing of any size or wall thickness in both T-304 or T-316 stainless steel.
Stainless steel furniture made by Dynacoil is finished to a bright #4 finish for appearance and cleanability.
Tables
Carts
Benches
Fold-away benches
Dynacoil holds the "R" and "U" stamps for the construction, repair and alteration of ASME code-rated tanks and pressure vessels. This certification ensures that Dynacoil follows strict material and quality control procedures and that our welders are certified for all welding operations. Tanks for applications, including pharmaceutical, chemical, beverage, food processing and more, can be custom manufactured in a variety of sizes, materials and finishes. Repairs and alterations of ASME code-rated tanks can be performed at Dynacoil or at the customer's plant.
We provide stainless steel platforms in many sizes and configurations. Railings, decking and other platform features can be customized for your application. Architectural details include:
Doors
Door frames
Flashing
Wall cladding
Window frames
Cabinets
Dynacoil can provide a turnkey proposal including design, seismic calculations and installation of platforms and architectural details.